Polish Sausage in Tomato Sauce (Kielbasa W Sosie Pomidorowym)
Rita1652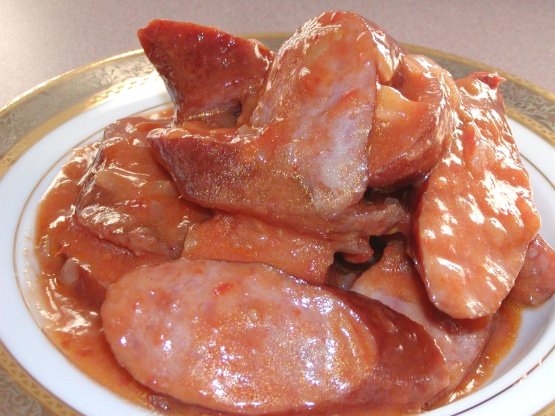 This is another Polish recipe for my hubby and for the Polish Zaar World tour contest, gotten off the About.com site.

This dish was ok, but my family wasn't too impressed. This was the first time we had a kielbasa dish with tomato sauce. I think we like our kielbasa better with kraut or cabbage. Update: I had to knock it down one star because both my guys got severe cases of heartburn. I didn't eat enough to get it but we won't make this again.
Heat the butter and lightly brown the onions. Add the flour and brown again. Gradually stir in water or beef stock and bring to a boil.
Add the tomato puree, salt pepper and sugar. Skin the sausage, cut into big cubes, and add to sauce. Simmer the sauce for a few more minutes until the flavours blend. Serve with potatoes.
Serves 2.