Prep 15 mins
Cook 15 mins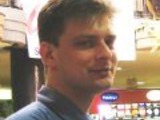 My mum suggested that we make these, so I searched the Internet for recipes. I found two, but was disappointed with both: onion powder? Half a sweet potato? No sour cream? How authentic is that? (links below) So we decided to make up our own recipe, a kind of combination of both of those. It's easy to make, vegetarian and delicious, so we thought you might like it too. http://www.polish-recipes.com/recipes.php/21/Polish-Platski---Potato-Pancakes/Sides/ http://www.bbc.co.uk/food/recipes/platski_83346
Directions
Preheat the oven to 200C/400F/Gas 6.
In a large bowl mix together the potato, onion, garlic, eggs, flour, cheese, dill, salt and pepper.
Spoon burger-sized amounts of the mixture into a frying pan and flatten into patties. Fry them for 5 minutes on each side or until golden.
Place the patties in the oven and bake for five minutes.
Serve on a warm plate, garnished with dill and sour cream, and fresh vegetables on the side.