Bergy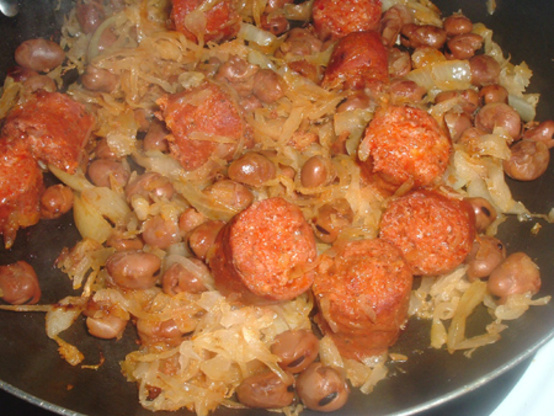 So easy! Kapusta is a Polish kielbasa sausage dish that is even better the second day. Paired with crusty bread, dinner is served!

Really nice change from my kapusta recipe. With my Polish heritage, I would never have thought to add butter beans to kapusta but it is really tasty. Not sure if you were supposed to drain the beans or not so I used the liquid too. After adding the kielbasa, I transferred everything to a roasting pan and baked it in the oven at 325 degrees Fahrenheit, stirring occasionally, for the last hour. Served this dish with boiled small new potatoes with butter and dill and a yummy rye bread. Leftovers were excellent warmed up the next day too with leftover potatoes fried with some chopped onion. :) Burnice
In a stockpot, add sauerkraut and bring to boil; rinse and drain.
Return sauerkraut to stockpot and add enough water to cover sauerkraut.
In a small skillet, saute onion in butter until soft. Add butter beans and cook at least 30 minutes.
Add kielbasa and cook 45 minutes to 1 hour, the longer the better.
Season with salt and pepper and serve with crusty bread.