Polish Crock Pot Sauerkraut
seesko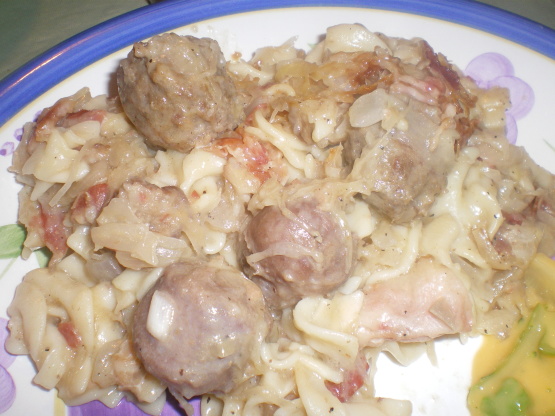 This dish was always showing up at pot luck dinners when I was a kid. I could eat whole bowls of this stuff and never get tired of it.

This was very good - definitely comfort food. I was worried about cooking already cooked noodles for such a long time but used Kluski noodles and they stood up to the crock pot very well - amazing! We loved the combination of flavors. I followed the directions this time but will probably rinse the sauerkraut and add broth or apple juice instead of the sauerkraut brine to mellow the flavors a bit. Thanks Bippie!
Fry bacon until crisp and set aside. In same pan with bacon grease, cook onion until tender and translucent.
In crock pot, add sausage, onions, garlic powder, sauerkraut, noodles, soup, and mushrooms. Stir gently until mixed while adding salt and pepper to taste.
Crumble bacon and layer on top of mixture in crock pot.
Cook on high for 4-5 hours stirring occasionally.