Cook4_6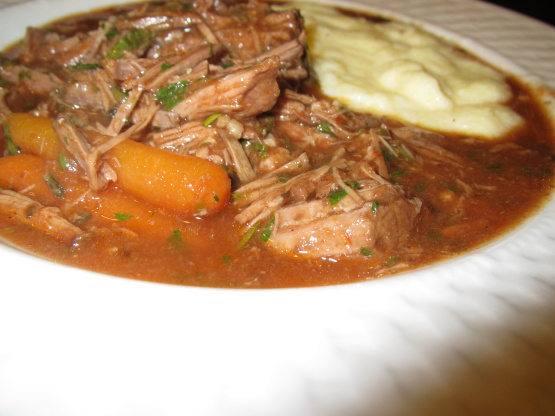 Found in Better Homes & Gardens Italian edition. It is a bit thinner than a regular stew, but has wonderful flavor. I cut the roast into 6 pieces, then cook it long enough that it shreds apart. In addition, I make Creamy Parmesan Polenta in place of the standard polenta mentioned here for an added dimension of flavor. Wonderful cold night food!

This was DELICIOUS!!!! So tasty! When I began to prepare everything for the crockpot, I discovered I didn't have any red wine, so I used beer. I kept everything else the same. I used the polenta method in this recipe and added the butter & parmesan as reccomended. Everything turned out so well, and my house smelled heavenly while this was cooking in the crockpot. Oh a little tip, I didn't have a baggie, so I dumped all the coating ingredients into my slow cooker liner, dumped in all the meat, and shook it up. The liner is so large, it worked fine with the full amount of meat in there and I didn't have to use a baggie. Thanks so much for posting this recipe. I froze the leftovers, and I can't wait to eat them!
Roast

1133.98

g beef chuck roast, boneless (can use lamb or pork)

59.14

ml flour

4.92

ml thyme, dried

4.92

ml basil, dried

2.46

ml salt

2.46

ml ground pepper

24-30

baby carrots

226.79

g onions, frozen small whole onions

6

garlic cloves, minced

4.92

ml rosemary, fresh

1.23

ml rosemary, dried

396.89

g beef broth, low sodium

236.59

ml water

118.29

ml red wine, dry

118.29

ml Italian parsley, flat leaf

59.14

ml tomato paste

Polenta

828.06

ml milk

236.59

ml cornmeal

236.59

ml water, cold

2.46

ml salt
Trim fat from meat and cut into 1-inch pieces.
In a plastic bag combine flour, thyme, basil, salt and pepper. Add meat pieces a few at a time, shaking to coat. Place meat in a 3 1/2-4 quart slow cooker. Add carrots, onions, garlic and rosemary. Stir in water, broth and wine.
Cover and cook for 8-10 hours on low, or 4-5 hours on high.
Stir in fresh rosemary, parsley and tomato paste. Serve with a spoonful of polenta in each bowl.
Just prior to serving prepare polenta by bringing milk to simmer. In a bowl combine, cornmeal, water and salt. Slowly add to the warm milk, stirring constantly.
Cook and stir until the mixture comes to a boiling. Reduce heat to low and cook 10-15 minutes until thick, stirring occasionally. (I sometimes add 1/4 cup of parmesan cheese and a tablespoon of butter at this point.).