Polenta Bake With Plums and Berries (Gluten-Free)
katew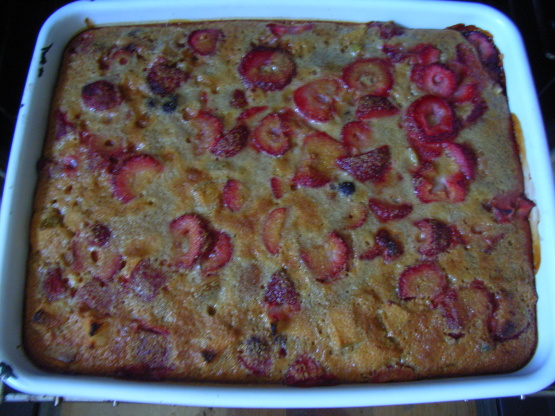 This recipe comes from a publication of my local supermarket. It is easy to make, not too sweet and very fruity. In summer you could easily adapt this by using different fruits and/or spices (peaches and vanilla e.g.).

Top Review by katew
Great rustic pudding - I made this with fresh strawberries and apple and it worked out well. Only had brown sugar so it is a lovely colour and not to sweet. Would be perfect served with cream, ice cream or custard but good, as I sampled it, on its own too.
Wash and pit the plums and cut into eight pieces. Place in a greased oven-proof dish. Add the red fruit jelly or fruit respectively.
Preheat the oven to 180°C.
Divide the eggs. Cream egg yolks with butter, sugar and cinnamon. Add polenta, yogurt and milk.
Beat the egg whites into peaks and fold into the polenta mixture.
Pour on top of the fruit and bake for 40-45 minutes.
After 25-30 minutes you might need to cover the dish for the rest of the baking time to prevent it from browning too much.
Serve warm with vanilla ice-cream or whipped cream.