Poireaux Braises (Braised Leeks)
Peter J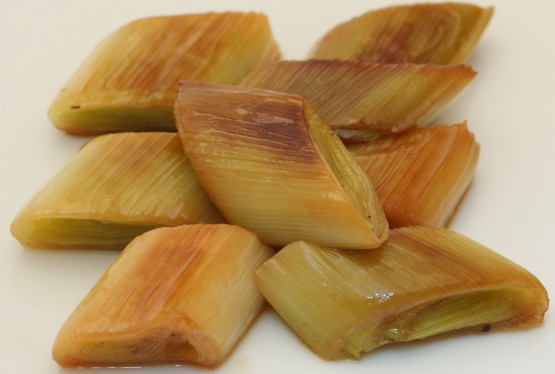 Leeks a cousin to the onion make a nice change from your regular beans and carrots.

Wonderful and easy leek dish. Elegant and down to earth at the same time. I served it with one of my all time favourite sweet potato dishes #15918 - baked sweet potato fries, and halibut steaks broiled, your choice of seasonings. This is a heavenly meal. Thanks, Bergy.
Cut leeks diagonally into thirds and then diagonally in half to form 6 triangular pieces from each leek.
Rinse under cold water; drain.
Melt margarine in a heavy skillet; add leeks.
Cook until lightly browned, stirring gently, approx 15 minutes.
Stir in the broth cover and simmer for 30 minutes or until golden and the broth has mostly evaporated.