Poinsettia Sipper (With "cocktail" Variation)
Kim127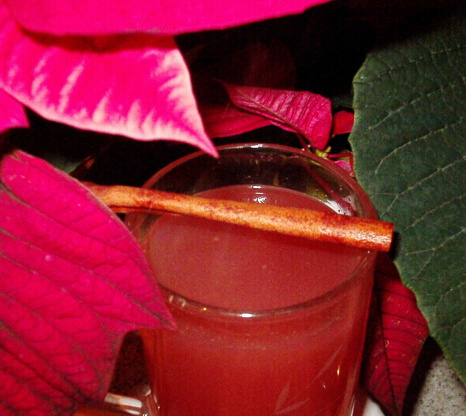 This looks like a festive beverage to serve for the holidays that may be served warm or chilled. It's from Cooking Light, December, 1995. A "cocktail" variation with alcohol is included below (with an increase of 150 calories per serving).

Top Review by Kim127
Oh, this is so wonderful! Perfect holiday beverage. I used apple cider in place of the apple juice but followed everything else. I love the flavor. Instead of vodka we added a little apple brandy (AppleJack) and I think it was a great combination! Thanks!!
In a large saucepan combine the juices, sugar, cloves, cinnamon sticks and water, stirring until the sugar dissolves.
Bring to a simmer; cover and simmer 30 minutes.
Remove cloves and cinnamon sticks from the pan with a slotted spoon.
Serve warm or chilled.
Garnish with orange rind curls, if desired.
Variation with Alcohol:.
For a Poinsettia Cocktail, add 1 Tablespoon Vodka to each serving.