Boomette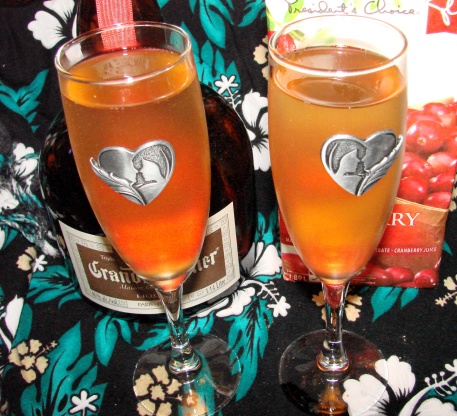 This recipe calls for simple syrup. To make it, simmer 1 1/2 cups sugar and 1 cup of water until the sugar is dissolved, then cool. Recipe is from Peterson's Holiday Helper by Valerie Peterson.
3⁄4 cup cranberry juice

3

ounces simple syrup

6

ounces orange liqueur, such as Cointreau

1

(750 ml) bottle champagne, chilled
In cocktail shaker with ice, combine the cranberry juice, simple syrup and orange liqueur.
Shake well (until the shaker is covered with condensation).
Strain the mixture, dividing it between 6 Champagne flutes.
Add the champagne, dividing it between the glasses.
Garnish each drink with 3 cranberries skewered on a cocktail pick.