Poifect Cluck, Cluck Burgers (Chicken Burgers)
Derf2440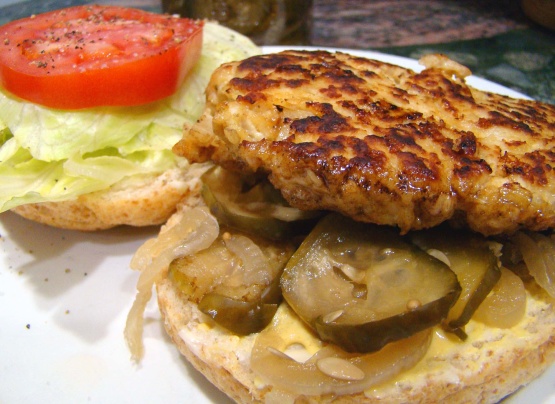 You get the good honest taste of the chicken in this recipe. Great for a family BBQ or pan fry the burgers ,either way they are good.

Love this recipe!!! Have made it many times, and always with a little tweak...something I seldom do, but it works for me with this dish. For the bread crumbs, I use dry chicken stuffing mix (which I grind down in my food processor). I always omit the water and usually add just a wee bit more of the stuffing as the chicken tends to be quite moist. I serve this bad boy on a toasted bun with only a dollop of lingonberry sauce on top (yeah, the stuff you eat with swedish meatballs). For me, this is the clencher and makes me crave this sandwich even more. I just love it. I am sure it would probably go well with cranberry sauce, too, but I can never bring myself to try because I love the lingonberry so much! This has pretty much replaced regular hamburgers in my household...and I couldn't be happier! Thank you.
Beat egg.
Mix in cheese breadcrumbs, onion, water, mustard, salt and garlic.
Mix in the chicken and shape into 4 patties, 3/4" thick.
Pan fry or barbecue over medium heat for 12-14 minutes, turning once or until no longer pink inside.