Bergy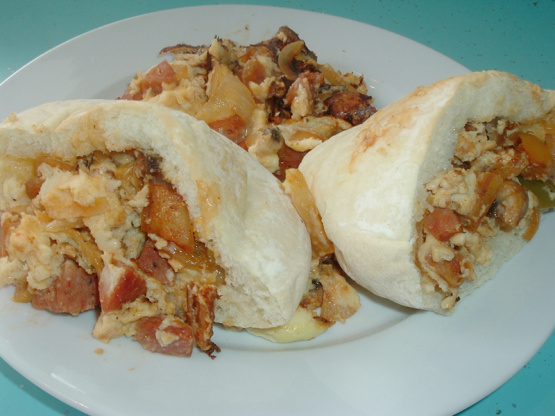 This is another "Clean the fridge" recipe. I have listed the main ingredients I used but feel free to use whatever you have in the fridge. You may serve this in Pita Pockets, on toast, a bun or just on a plate. It is great for brunch, lunch or an easy supper I like to add some cheese to it too. You can pour the eggs directly over the scramble in the skillet cover the skillet and cook over medium heat until firm. Remove lid and lift the eggs allowing the uncooked egg to run under and then replace lid & continue cooking - This takes apprx 8 minutes

Top Review by Mandy
I had some leftover snags from a BBQ so thought this would be a great way to use them, extra veggies added were tomatoes & spinach leaves & I used a mixture of BBQ & tomato sauce. For the topping I used regular cream in place of sour cream as that's all I had. Served with a side salad & homemade wedges rather than pitas, this was a nice quick meal.
4

pita bread, cut in half and opened or 4 other buns or 4 bread

2

sausages, cut in 1/2 inch pieces cooked or 2 other left over cooked meat
1⁄4 cup sweet onion, chopped
1⁄2 cup mixed pepper, chopped
1⁄2 cup mushroom, sliced

1

teaspoon minced garlic
1⁄2 cup of any other vegetables, you have left over

5

tablespoons barbecue sauce (or other spicy sauce)

3

eggs

2

tablespoons sour cream or 2 tablespoons cottage cheese

2

tablespoons flour
1⁄4 cup whole milk or 1⁄4 cup 1% low-fat milk
preheat oven to 375F.
Lightly spray a fry pan with oil, Sauted the onions, mushrooms & pepper for 4 minutes over medium high heat.
Add leftover sausage (meat).
Other veggies and BBQ Sauce, heat through and then transfer to lightly oiled ovenproof dish.
Wrap the pita breads in foil and heat in the oven for 10 minutes.
Meanwhile whip the eggs, milk, flour and sour cream (or cottage cheese) together.
Pour the eggs over the scramble in the casserole dish and place in the oven- bake for apprx. 15 minutes or until firm.
You may do this as a "do-ahead" dish; just get it ready up to the point of pouring in the eggs and 20 minutes or so before serving pour in the eggs and bake.
Remember if the scramble is cold when you pour in the eggs it will take longer.