Poached Shrimp With Bay Leaves and Lemon
Linky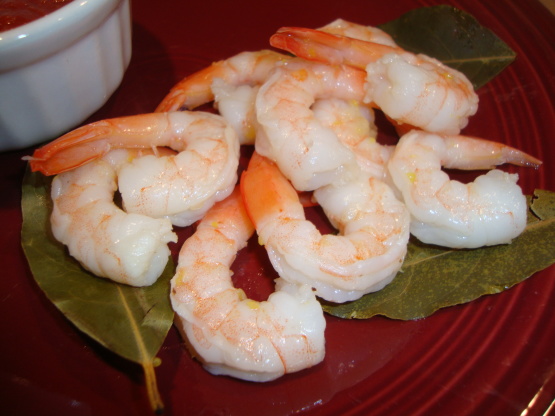 A cold shrimp-cocktail recipe from Cooking Light. It's tasty enough that it doesn't need a sauce. But you can serve with cocktail sauce to stay low-fat, or a remoulade or other mayo-based sauce if you don't mind the extra calories. Time to cook doesn't include chilling time.
Combine first 7 ingredients in a Dutch oven (through carrot); bring to a boil. Reduce heat; simmer 15 minutes. Add shrimp; cook 2-3 minutes, until they are pink and fully cooked.
Drain shrimp and place in a shallow dish.
Combine lemon rind and remaining ingredients. Add to warm shrimp; toss well. Cover and chill until ready to serve, at least 3 hours.