Satyne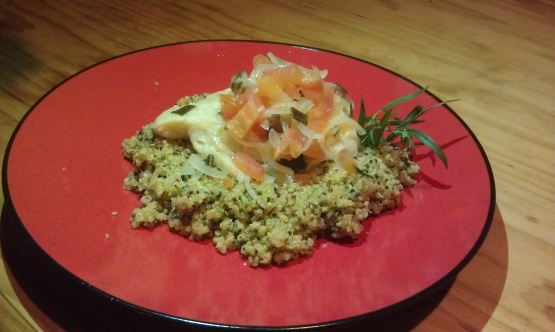 Top Review by Satyne
This was really lovely.

After some initial questioning of the cooking method (not sure if it's really poached or should be called braised) I prepared all ingrediants. This only took about 10-15 minutes. I had some fresh tarragon growing so opted to use a few sprigs of that rather than dried. I was unable to source any Sole so I used Basa fillets (1 fillet gives you about 2 serves for this dish)

I did also decide to double the sauce so that my fish would actually be submerged in the pan that I used.

The directions were nice and easy to follow and this was a surprisingly quick and delicious meal.

I served this with some quinoa & spinach.

Thanks for a lovely dinner.
In a large nonstick skillet, heat the oil. Add the onion, shallots and garlic; cook, stirring as needed, until softened, about 5 minutes.
Add the wine, lemon juice, tarragon, bay leaf and pepper. Add the fish, gently spooning the onion mixture over the filets. Reduce the heat and simmer, until partially cooked, about 3 minutes.
Gently stir in the tomatoes; simmer, covered, until the fish is opaque and flakes easily with a fork, about 2 to 3 minutes. Discard the bay leaf. Serve, topped with the sauce.
Per Serving: Calories 254; Fat 7g (sat 1g); Cholesterol 68mg; Sodium 132mg; Carbs 13g; Fiber 2g; Protein 29g; Calcium 64mg.
This is good with brown rice and a salad.