Poached Eggs on Roasted Veggies
VickyJ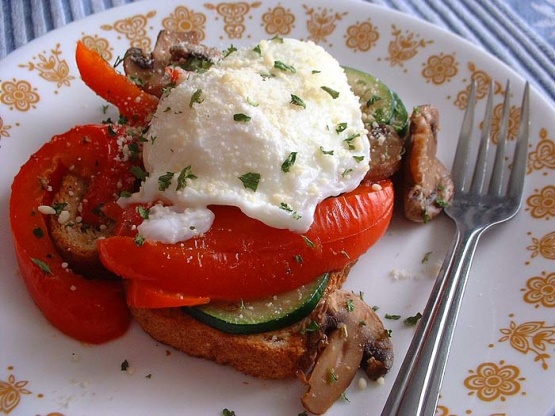 I was recently visiting my sister back east and she was experimenting recipes on me. This was one that came home with me!!! Works well as part of a brunch menu served with fruit salad --or-- a light dinner.

Top Review by VickyJ
This was excellent, and I had it for breakfast this Sunday morning. The variation I had was whole wheat/buttered toast, fresh sliced mushrooms, and sliced zucchini. What a tasty treat, since I was on my own this morning! Instead of fresh parsley, I used dried. Thanks again! :)
Coat mushrooms and squash with dressing. Place on baking dish. Broil 6" from heat until peppers and squash soften and brown; about 5 minutes. Turn peppers.
Add mushrooms and broil until they are soft; about 3 minutes. Turn mushrooms and continue to broil unto cooked through.
In a large skillet, poach eggs until cooked. Toast muffins.
To Serve: Take 1 English muffing, top it with a portobello mushroom, then add some peppers and squash. Top with poached egg. Sprinkle with parmesan cheese and parsley if desired. If you want to get really fancy, drizzle the plate with a balsamic vinegar glaze.
Variation: You could change the peppers to orange or green -- change the summer squash to zucchini.