Poached Eggs on Field Salad With Tomato Sauce and Caviar
Anke R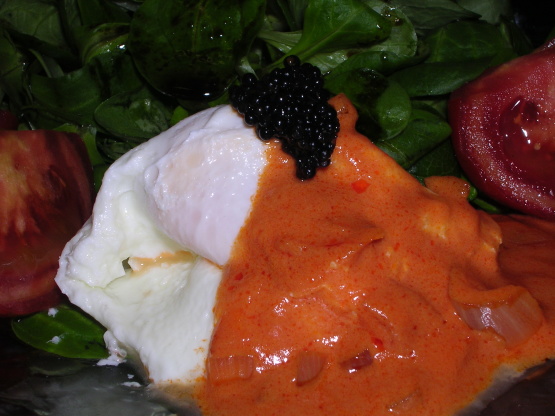 This is one of my adopted recipes.

This was delicious! I used sour cream in the tomato sauce and added a teaspoon of dijon. In the vinegarette, I didn't have white balsamic, so used lime juice and a dask of dark balsamic vinegar. The combination of fresh salad with dressing, eggs with the rich sauce and a dollop of salty caviar made this dish really sophisticated and perfect for a relaxing breakfast/brunch. I was reaching for a glass of savignon blanc at only 10.30am!
Start with the sauce, so you can serve this immediately:.
Melt the butter and add the onion.
Don't brown them!
Add tomato paste, cream, eggyolk, salt, pepper and sugar and let simmer on low heat until you have creamy sauce.
In the meantime boil water with vinegar.
Mix oil, vinegar and soy sauce.
Put lettuce on individual plates.
Sprinkle with dressing.
Break eggs separately into a cup and slip into the hot water.
Poach eggs 5-7 minutes in water (water shouldn't be bubbling at the time).
Take the eggs carefully out of the water and trim the edges.
Place the eggs on the salad (1 per plate if you use this as an appetizer), decorate with tomato sauce, tomato parts and sprinkle with caviar.
Looks nice if you manage to cover some of the egg with the red sauce and place the caviar on top.
Serves 8 as appetizer, 4 with some bread for a light dinner.