Poached Eggs for a Hangover
Axe1678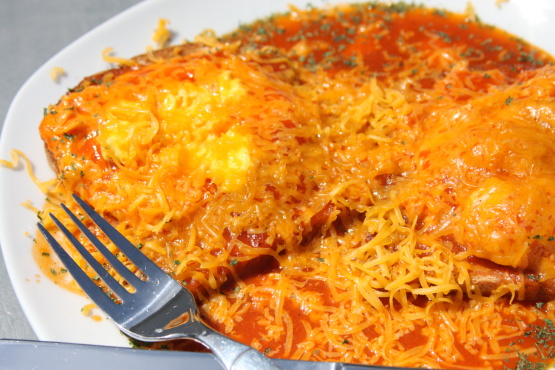 OH MY GOD...these are to die for! For a recipe so simple this is delicious! The ingredients may seem strange but please don't be put off by them. I call these hangover eggs because it incorporates a lot of the ingredients that are said to help with a hangover. Eggs, pickle juice, burnt toast (well don't burn it if you want it to taste really good)...but forget all that. These are easy, easy, easy and the best eggs you'll ever have. You can change the kind of cheese to what you like. Serve them to some hungry people and impress the pants off of them.

I've really struggled with how to rate this as I think it's one of those things you either love or hate and is a personal taste thing. But I'm not a big ketchup fan and that taste seemed to overpower the rest of it for me. That said, I loved how easy it went together with things I always have on hand. The taste seemed to be similar to a Bloody Mary and wondering if using that instead of the ketchup might make the differance for me. You didn't say what kind of pickle juice so I used dill as that was what was in the fridge.
Combine ketchup, pickle juice, hot sauce, fresh pepper and butter in a skillet, mixing well over low-medium heat. Once bubbly, hot and fully incorporated crack eggs over the sauce. Cover with a lid for about 8-10 minutes depending on how well you like your eggs. During the last 2 minutes of cooking add the cheese to eggs and let melt. While cooking, toast bread to well done. When eggs are done remove them with a spatula and place over toast and pour the sauce over the eggs. Sprinkle with fresh pepper.