Ms B.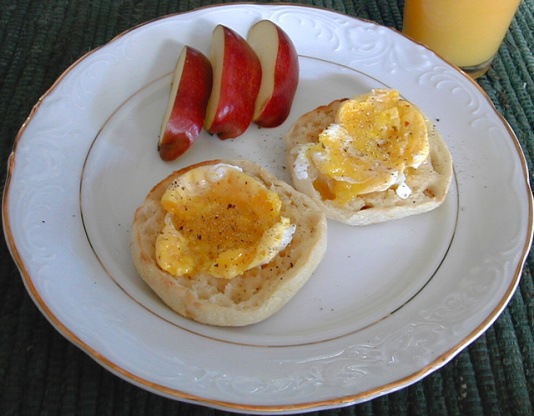 This decedent adventure reminds me of Mae West's quote "When I'm good, I'm very good, but when I'm bad, I'm better" NOT good for you, but easy, and oh so good!!!

I loved these; however, I don't like messing around with the saucepan. So I put 1/3 c. water in a custard cup, added a couple drops of vinegar, then added the egg yolks. With my microwave, it took 25 seconds for them to be deliciously liquid and ready for spreading.
1

English muffin, halved (with your fingers or a fork for more crannies)

2

egg yolks
butter (or condiments of your choice)
water (with vinegar added if you wish)
In small pan bring water (and vinegar if using) to a soft boil.
Meanwhile, toast and butter (or otherwise dress) English muffin halves.
Drop egg yolks into simmering water and cook for one min (or less) until done to desired consistancy.
Place yolk on top of muffin and break so that it can soak in to the muffin.
Salt and pepper to taste.
Devour.