Poached Chicken Portuguese
dicentra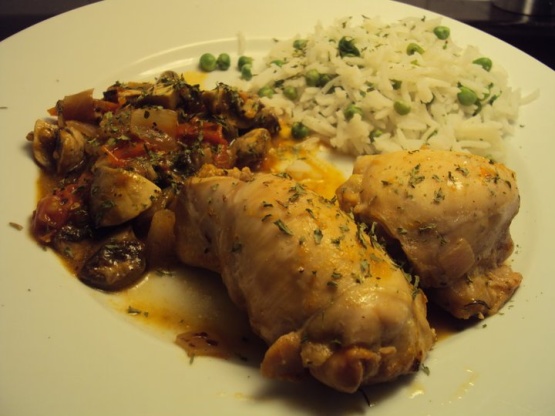 From 365 Ways to Cook Chicken.

made this for lunch. was very easy. tasted ok.. maybe that has more to do with my taste in food than the recipe. =P this recipe makes quite a lot, so unless you're cooking for 4 ppl or more, i'd halve the recipe. i've never had portuguese food before. thanks for sharing this recipe! very different taste. =D
In a large frying pan, heat oil over medium heat. Add scallions and cook until lightly browned, about 3 minutes.
Add garlic and hot pepper sauce; cook 1 minute.
Add tomatoes, vinegar, bay leaf, cloves, Worcestershire sauce, saffron and pepper. Bring to a boil, reduce heat, and simmer uncovered for 15 minutes.
Place chicken on top of sauce, cover, and simmer 15-20 minutes until chicken is tender and cooked through.