Boomette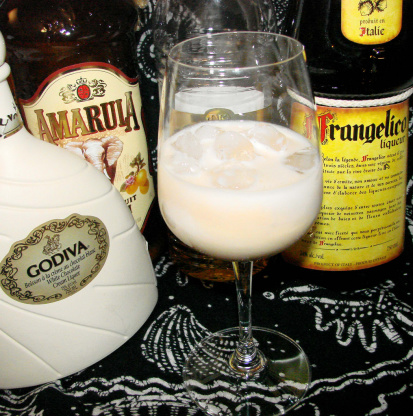 Having a rotten day, or just need a little spoiling? This outta do it! ;) :) Rich, decadent, and after the first sip a long sigh and smile will follow....my own cure-all concoction!
2

ounces Frangelico

2

ounces butterscotch schnapps

1

ounce Godiva milk chocolate liqueur

1

ounce amarula liqueur

1

ounce milk, more if preferred
ice
Stir first 5 ingredients in your favorite large, parfait-style wine glass.
Add as much ice that will fit, about 6 ice wedges.
Put on your favorite movie or grab your favorite book, sink into the tub, sip and enjoy -- put off laundry til tomorrow. ;).
(1-2 servings, depending on your day!).
Tip: This is really good in the blender with ice for a frosty frappe, too! ;).