Plums Poached in Earl Grey Tea
Leslie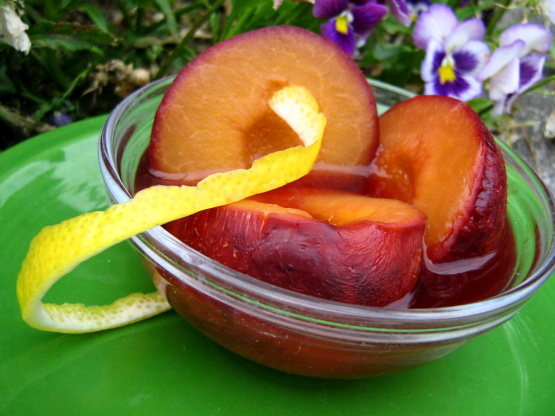 Or as the French say, "Prunes Pochees au The Earl Grey." Submitted for the 'Zaar World Tour 2005. These sound good!

Tried this dish as part of the 2005 Zaar World Tour. And while I am slowly cooking and eating my way around the globe, I'm doing my best not to end up looking like one. Whith that I took a few liberties with this dish. I replaced the sugar with Splenda for the poaching liquid. That worked well for the plums but left me with a non-syrupy liquid. To compensate, I reduced the tea to 1 cup and whisked in a tablespoon of cornstarch. I think this gave me the intended consistency. Had my first plum plain - delicious. Then I got the wacky idea of serving the second on top of some sugar-free fat-free pudding. Yummy. Thanks Pottise!
6

plums (if small leave them whole, cut larger plums in half and remove the pit)

6

cups water

2

earl grey tea bags
3⁄4 cup superfine sugar

1

lemon, juice of
Pour the 6 cups of water into a large saucepan and bring it to a rolling boil. Remove from heat.
Add the tea bags, cover and steep for 10 minutes.
Remove the tea bags, place the pan back over high heat and bring back to a boil.
Stir in sugar and lemon juice. Stir until the sugar is dissolved.
Reduce the heat to medium low. The liquid should just be simmering, add the plums and poach until tender. The amount of time will vary from 1 minute to longer depending on the size and ripeness of the fruit.
Remove the plums from the liquid and set aside to cool.
Continue to simmer the liquid until it is the consistency of a light syrup.
To serve:.
Place the plums into small dessert bowls and ladle some of the poaching liquid.