malson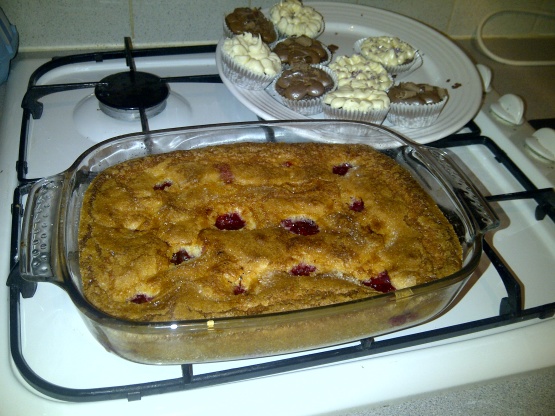 I found this recipe on another site and really like the contrast of the sweet dough and tart plums. The dough bakes up around the plums allowing them to become like a fruit filling.

Amazing tart. I would cut down on the amount of cinnamon sugar mix next time. I made 2 tarts, we ate one and i froze one in srink wrap to see if it froze well. It did, i let it slowly defrost on the side uncovered as it seemed a little wet to start. It dried out well and tasted just as good. I'll make several of these next plum season so we can eat it whenever we want. Many thanks
Grease and flour a 9-inch springform pan.
Preheat oven to 350C.
Cream 1 cup sugar and butter together; beat in eggs and vanilla.
Sift dry ingredients and stir into batter.
Spoon into prepared pan.
Place plum halves, skin side up, on batter.
Sprinkle with 2 tablespoons sugar and cinnamon, adjusting to tartness of the fruit.
Bake for 1 hour.
Best served warm with vanilla ice cream.
This is also best served the day of baking as the moisture of the fruit can seep into dough and affect the texture of the tart; it still tastes great, though!