Plum Strudel With Hazelnuts
Meme8851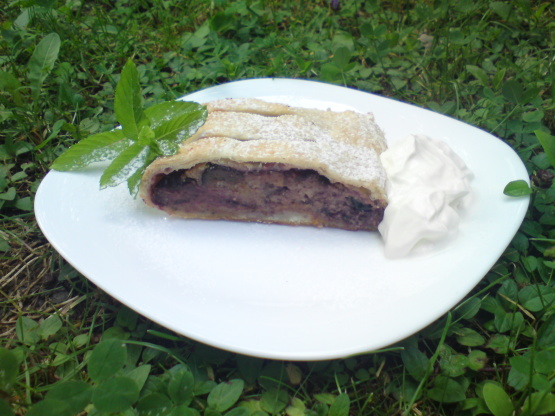 This is a perfect autumn dessert – sweet purple plums, toasty hazelnuts and a hint of cinnamon. It is best served with crème fraiche or whipped cream.

I don't often make strudels, but pair that with a plum & hazelnut combo & I figured, rightly so, that we'd have a wonderful tasting dessert! Absolutely wonderful, & I did follow the recipe right on down, except that I served it with a scoop of frozen vanilla yogurt that was softened! Thanks for this great treat! [Made & reviewed for one of my adoptees in this Fall's round of Pick A Chef]
Melt butter in a small pan and toast bread crumbs until they are golden.
Mix all the ingredients except pastry with breadcrumbs.
Roll out the pastry to about 5 mm of thickness and shape it into a rectangle. You can use pre-prepared puff pastry.
Place the plum mixture on the pastry and roll it. You can use a bit of water to safely seal the ends.
Bake in an oven heated on 180°C for 45 minutes.
Decorate with icing sugar and serve warm.