Plum Parfaits With Mascarpone Whipped Cream
2Bleu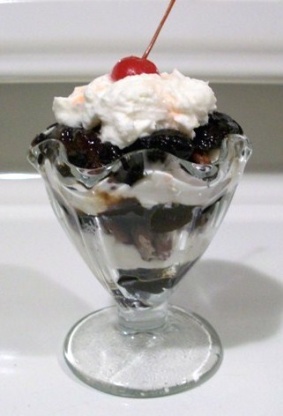 These parfaits are beautiful. You feast with your eyes before food ever touches your lips. The parfaits are made with alternating layers of sliced cooked plums, toasted walnuts, and mascarpone whipped cream. The plum preparation involves only a few minutes of cooking. A quick and stunning dish all together that will knock the socks of your guests.

A very tasty parfait which we greatly enjoyed. I made it with a mix of plums and nectarines, simply because the nectarines are so juicy and delicious at the moment. I did reduce the ginger (personal taste preference) but otherwise made these to the recipe. A great blend of flavours and the mascarpone cream was wickedly delicious. I'll make this again but - unless it's for guests - I'll skip the delicious cream (sadly, just not so healthy) and serve the fruit with Greek yoghurt. Thank you for sharing this recipe, Jess. Made for PRMR.
For the Mascarpone Whipped Cream:.
With an electric mixer, beat the cream, mascarpone, sugar and vanilla together in a large bowl until peaks form. (Mascarpone cream can be made 3 hours ahead. Cover and refrigerate.) Makes about 3 cups.
Toasted Walnuts:.
To toast walnuts, spread on a rimmed baking sheet and bake in a 350 degree preheated oven until fragrant and slightly browned, 6 to 8 minutes. Remove and cool. (Walnuts can be toasted a day ahead. Cool and keep covered at room temperature.).
Plum Parfaits:.
Halve plums lengthwise, and pit. Slice each half, lengthwise, into quarters. Then cut quarters in half crosswise.
Place a large heavy skillet over medium heat until bottom of pan is hot. Add plums and sprinkle with sugar, ginger and cinnamon. Stir constantly until sugar dissolves and becomes syrupy and plums are tender when pierced with a knife, about 6 minutes for medium ripe plums. (If plums are riper, the cooking time will be shorter, only about 3 minutes.) Watch carefully, and do not overcook or plums will become mushy. Remove skillet from heat and cool plums to room temperature. Taste and if desired season with more sugar. (Plums can be prepared 3 hours ahead. Leave at cool room temperature.).
To assemble parfaits, use 4 sundae or wide-mouthed wine glasses. Spoon a few tablespoons of the plum mixture, including the juices, into each glass and top with a few tablespoons of the whipped cream. Sprinkle with some walnuts. Repeat this layering two more times in each glass. Garnish each parfait with a mint sprig. Serve immediately.