GaylaJ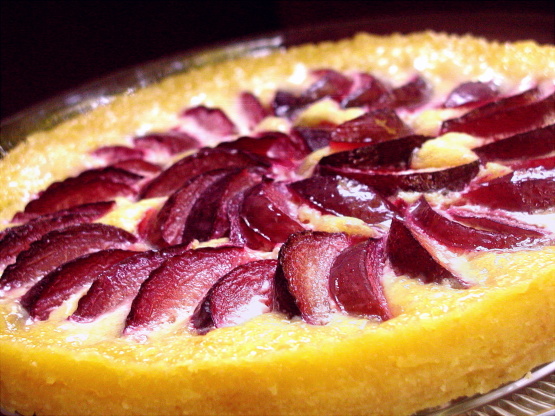 Luscious coffeecake adapted from Squalicum Lake Cottage Bed and Breakfast in Bellingham, WA. The recipe was published in a lovely cookbook, Northwest Mornings, given to me in a zaar swap by my good friend Lulu B.
This was quite easy and quick to prepare. I have to admit that the crust was dry. Did I overcook it? I don't think so, as it was a nice golden brown. However, maybe I did. It was tasty for sure, but mine needed some sauce or something to soften up the crust.
Preheat oven to 350°F.
Mix flour, 1 tablespoon sugar and baking powder together.
Cut in butter until mixture looks like coarse crumbs; add 2 tablespoons heavy cream and 1 egg.
Press in bottom of 9-inch square pan or pie pan and arrange plums on top.
Bake for 25-30 minutes.
While this is baking, in a bowl combine heavy cream, sugar, egg and vanilla, using a whisk to beat together well.
Pour mixture over plums and bake an additional 20-30 minutes, until custard is set.
Serve warm or cool.
Store in refrigerator.