Plum Jam With Lime and Ginger
Rita1652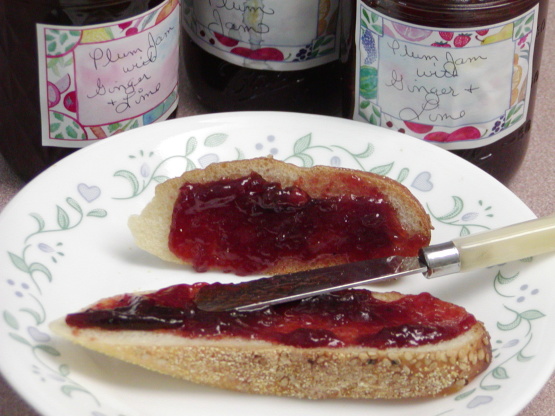 Plum jam with a zesty kick from the juice and zest of limes and fresh and dried ginger.

This was good and very easy to make. I really liked the addition of lime and ginger to the plums. Next time I will reduce the amount of lime and ginger by about 1/3-1/2 as we found the flavors were overpowering.
Place all ingredients in pot and bring to a boil.
Boil rapidly to almost the jelling point.
This will be where you are stirring as it is still boiling for 15 minutes.
As it thickens make sure to stir so not to burn.
Ladle into sterilized jars leaving 1/4 inch head space.
Process 15 minutes in a boiling water bath.