Derf2440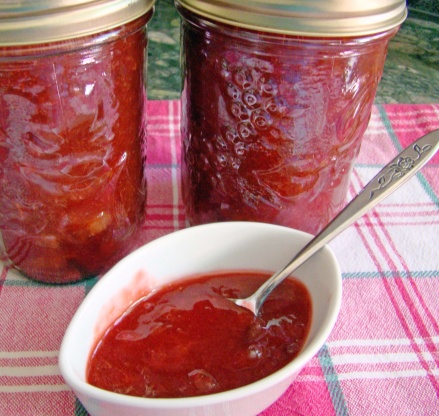 This jam recipe is easy and makes really good plum jam. I use pectin because it significantly reduces the boiling time and sugar needed. I prefer using organic red or purple skin plums with organic sugar. This recipes makes six 8oz. jars. Enjoy!

This is so good. Yes I agreed the mount the pectin is not right. I have to redo mine also. I used 3/4 amount of sugar. I done a large batch. Got 18 pints. Thank for posting it.
4

cups plums, mashed (pitted and chopped, leave skins on, approx. 3 pounds, or 24 plums)
1 1⁄2 cups sugar
1⁄4 cup lemon juice

3

teaspoons pectin
Pit, chop, and mash plums.
Place in large pan over medium heat.
Add 1/4 cup lemon juice to pan.
Cook to a full boil. Reduce heat and cook 30 minutes.
In separate bowl, add sugar and pectin and mix together.
Add sugar/pectin mixture to pan. Stir.
Bring to boil and cook for another 5 to 10 minutes.
Remove from heat.
Fill jars to 1/4" of top. (Makes six 8oz. jars).
Wipe rims clean and screw on 2-piece lids.
Submerge sealed jars into hot water bath at 200 degrees or boiling water for 10 minutes. Lids will "pop" once removed from hot water bath and you know they are sealed. Let cool on counter.