Tisme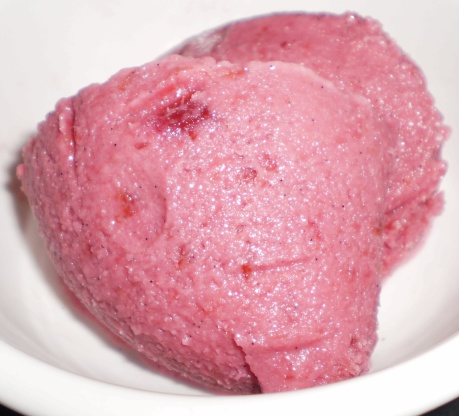 If you are lucky enough to have a plum tree this ice cream is a delicious way to use them. Refrigeration and freezing time (8 hours) not included in prep/cooking time. Processing time is included in cooking time. Recipe source: Bon Appetit (July 1985)

Top Review by Tisme
Sweet and tart together and so yummy. DH thought it tasted like a fozen yogurt and DS's girldriend who doesnt eat plums loved this! A little chocolate sauce was used to entice the plum haters of the family, after a little hesitiation in tasting it .....they also loved it! I followed recipe as per directions using blood plums, although I did half and pit the plums before cooking. I did think it would not freeze as after 5 hours it was still soft, but left overnight....Perfection. Soft, creamy tangy and delicious.
1⁄2 cup water

2

tablespoons superfine sugar (or regular sugar run through a blender)
1⁄2 lb plum

1

cup whipping cream

1

cup milk

2

vanilla beans, split lengthwise

4

egg yolks, room temperature
2⁄3 cup superfine sugar (or regular white sugar run through a blender)
In a saucepan over low heat combine water and 2 tablespoons sugar, swirling occasionally until sugar dissolves. Increase heat and bring to a boil. Adjust heat so liquid barely shimmers.
Add plums to pan and cook for 3-5 minutes (or until tender). Cool completely.
In a saucepan bring cream, milk and vanilla beans to a simmer. Remove from heat and let stand 10 minutes.
Scrape seeds from vanilla beans into the cream mixture, discarding pods. Return mixture to a boil. Remove from heat.
Beat egg yolks and 2/3 cup sugar until pale yellow and then beat in hot milk mixture. Return all to saucepan and cook stirring over medium low heat until mixture thickens (6-8 minutes). DO NOT BOIL. Strain mixture into a bowl. Cool completely in a refrigerator (at least 4 hours), stirring occasionally.
Pit cooled plums but do not peel. Puree plums with liquid in a food processor or blender until smooth. Fold plum mixture into custard.
Process in an ice cream maker according to manufacturer's directions.
Freeze in a covered container for several hours.