BarbryT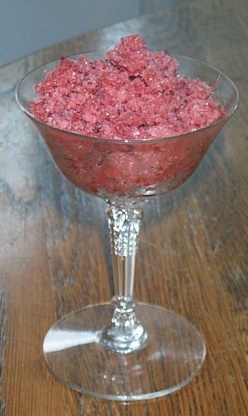 This is a very easy healthy desert, perfect for someone who's lactose intolerant. It's very easy to put together. My guest were impress on how easy it was to put together. I serve them in martini glasses

GREAT TASTING DESSERT, & ever so easy to prepare, too! The 2 of us enjoyed it all by ourselves, & now I'm anxious to make it when we have company over! Thanks for sharing this wonderful recipe! [Tagged, made & reviewed for one of my groupmates in the Aus/NZ Recipe Swap #37]
Remove seeds from plum and place the plums with syrup in a blender or food processor puree the plums.
Stir in the lemon juice and the vanilla puree the mixture,.
Transfer the mixture to a freezer proof dish.
Chill for eight hours or overnight.
When your ready to serve scrape the granita with a fork to lighten the texture and serve it in chilled bowls.