wizkid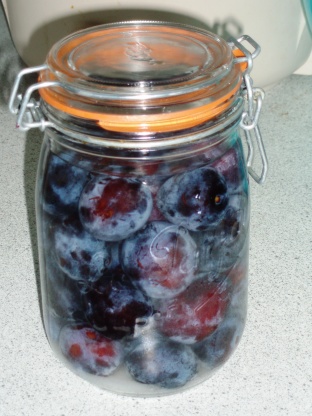 Sweet and lethal. A great way to give gifts over the holiday, using the fruit that's in season at the end of summer!

Absolutely amazing! The flavor from this is subtle cinnamony plumb, but as said before quite lethal! I made this last year and enjoyed it so much I know have a double batch "curing" for this winter. The hardest thing about this recipe is the wait!!!!
Place the plums in a 1 quart glass container, being careful not to crush the fruit.
Add the sugar and the cinnamon stick.
Fill the container with the vodka.
Seal the lid and gently shake the jar, or move it around the counter to distribute the alcohol and sugar evenly.
The sugar will continue to dissolve over time.
Place the cordial in a cool, dark place for 2 months to allow the liquor to be infused with the flavor.
Jump start the process by placing the container on a sunny windowsill for the 1st two weeks.
The fluctuating temperatures of the daytime sun and the cool evenings will speed the flavor infusion.