-Sylvie-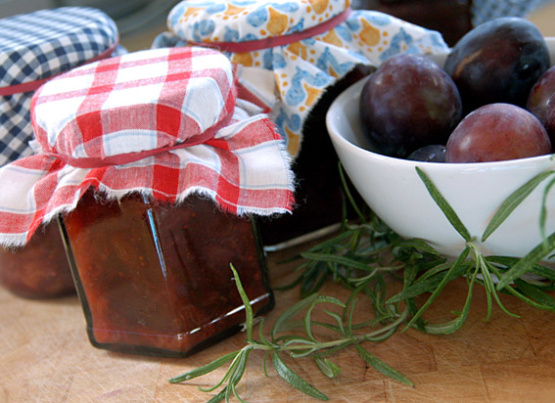 In our backyard, there is a plum tree and it went crazy last season and we had oodles of plums. I was looking for ways to use the fruit and found this delicious recipe for chutney that came from the Red Castle Inn B&B in Nevada City, CA. I gave three of the jars away as Christmas gifts and it was a hit!

I know this needs to mellow over a 4 week period but WOW! I got a spoonful as I was jaring it--just couldn't wait....what a wonderful blend of flavors & very easy to make...the waiting is the hardest part. Wonderful for gifts this holiday season.
Combine sugars and vinegar in a large saucepan.
Bring to a boil, stirring until sugars dissolve.
Add remaining ingredients; mix well and bring to a boil.
Reduce heat and cook gently 45-50 minutes until thickened.
Stir often to keep chutney from scorching.
Pour into hot sterilized jars and seal.
**Allowat least one month to season before opening.