MsBindy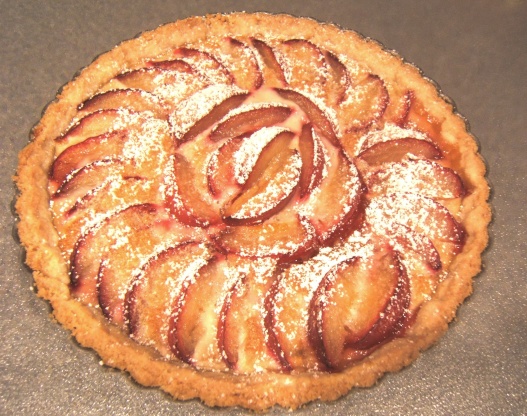 Posted for Zaar world tour II.

Very pretty and tasted great too. I accidently forgot the egg yolks in the pastry, but it still worked out OK. I actually reduced the recipe to 1/3 and made it in a smallist tart pan. It is a little early in the season for plums here in NY, so my plums were quite tart...almost tasted like sour cherries or rhubarb! Also, the recipe does not say where to use the vanilla. I put it in the egg whites.
Place 4 cups flour, sugar, salt and melted butter in a bowl; mix.
Add egg yolks and vanilla, mix.
Place the dough onto a cookie sheet pan and press with your fingers make a rim.
Spread with a thin layer of apricot jam.
Place the quartered purple plums in rows on the dough and jam.
Beat egg whites slightly and brush over the plums.
Sprinkle 2 tbsp of flour over the egg whites.
Bake at 375 degrees Fahrenheit for 40 minutes.
Sprinkle powdered sugar on top of the plum cake.