Thorsten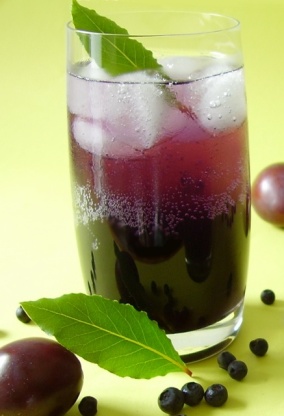 Bay leaves lend this spritzer a spicy fragrance that offsets the sweetness of the blueberries and plums. MAKE AHEAD: The syrup can be refrigerated for 1 week. NOTES Variation: Pour 2 tablespoons of the berry syrup into a Champagne flute and top with Champagne.

An excellent cooling beverage. Mine didn't reduce by time stated but I stuck around until it did. ZWT3
5

cups water

1

cup fresh blueberries, ripe

3

black plums, ripe (pitted and cut into eighths)

8

fresh bay leaves or 8 dried bay leaves, plus extra for garnish
1⁄4 cup sugar, plus

2

tablespoons sugar

8

cups club soda, cold (for serving)
Bring the water to a boil in a medium saucepan. Add the blueberries, plums, 8 bay leaves and sugar, cover and boil over high heat, stirring, until the juice is reduced to about 3 cups and the plums are tender, about 20 minutes. Strain the mixture though a fine sieve, pressing lightly with a spatula to extract the juice; reserve the bay leaves. Return the juice to the pan, add the reserved bay leaves and simmer over moderate heat until reduced to 2 cups, about 10 minutes. Discard the bay leaves; let the syrup cool.
For each drink, gently whisk 1/4 cup of the plum-blueberry syrup into 1 cup of cold club soda, pour into a glass, garnish with a bay leaf and serve.