teresas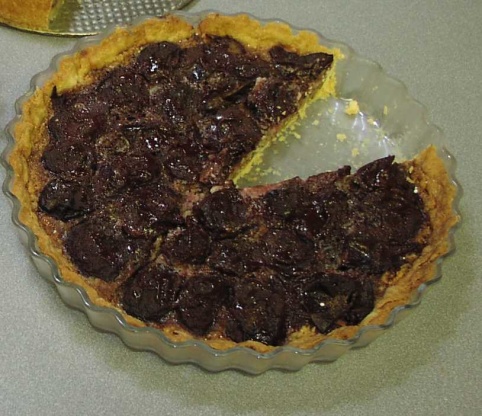 This is out of "The Summertime Cookbook" I make it for special occasions.

Although I love plums, I don't seem to include them in much of my baking, so this recipe was a treat, both in the making the recipe & the tasting of tart itself! We both loved the combo of plum & almond, & I look forward to making it to share with others the next time around! Obviously, it's a keeper! [Tagged & made in Please Review My Recipe]
Sift flour into bowl, cut in butter, add egg yolk and enough water to mix to a dry dough.
Turn onto lightly floured surface, knead lightly until smooth, cover, refrigerate 30 minutes.
Roll pastry large enough to line a 9-inch flan pan, refrigerate 30 minutes.
Meanwhile halve and seed plums, drain on absorbent paper.
Combine almonds, sugar, lemon rind and egg in bowl, mix to a paste.
Combine extra sugar and cinnamon thoroughly.
Spread almond mixture into pastry case, top with plums, dot with butter, sprinkle with sugar mixture.
Bake in 375°F oven about 50 minutes or until golden brown.
Dust with powdered sugar, serve warm or cold with shipped cream and sliced almonds.