Need to boost your energy? Give this a try! A quick Breakfast!
4 ripe peaches, peeled dice and pitted (You can leave the peels on for fiber IF you want)
1⁄4 cup peach yogurt
1 tablespoon honey
1 teaspoon vanilla extract
6 ice cubes
Directions
Blend all the ingredients till smooth and creamy!
Reviews
Most Helpful
Wow! This is so good!!! Better like peach for this bad boy! YUM YUM YUM!!! This is definitely something im going to make before classes when I go back to school... this is so good rita!!!

This smoothie is so refreshing and tasty! I used frozen peaches and a little bit of apple juice to thin the mixture. The honey and vanilla really compliment the peaches and give it a very mellow, smooth flavor. Thanks Rita!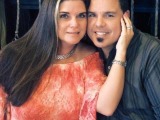 We loved this ... used frozen peaches so no ice cubes. As with all smoothies we added flax seed too. Really good thanks Rita!!