Boomette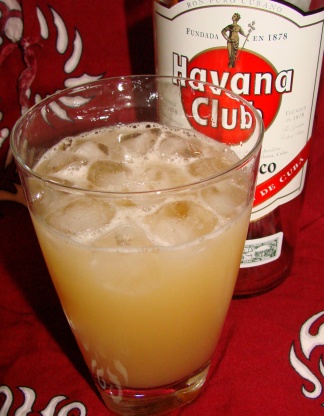 From William's-Sonoma book entitled "Cocktail Parties". Perfect for an outdoor luau, it turns out a pretty pale pink if you use light rum. The grapefruit juice ensures that it's not too sweet since I don't like really sweet drinks. Very refreshing! I have doubled this recipe and it works out well so I'm sure it could be made in a large batch. Also, I wouldn't consider compromising the recipe by using canned juices. I have a juicer and juice fresh pineapple which makes the drink really frothy and delicious!!
Fill a collins or tall glass with ice and a cocktail shaker half full with ice cubes.
Pour in the rum, all the fruit juices and the simple syrup.
Cover with lid and shake hard for about 20 seconds, then strain into glass.
Top with the club soda, stir briefly and garnish with pineapple spear.