ByNDii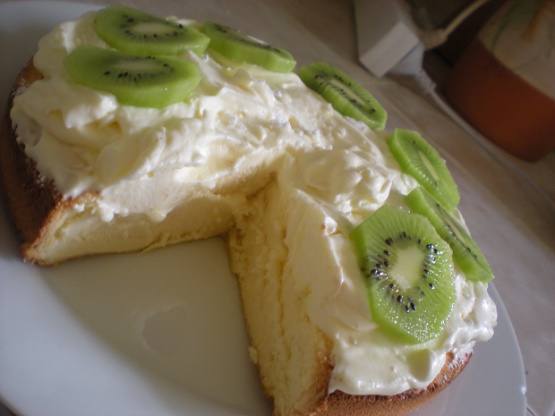 Light and easy, good for those cake cravings, as cake bases in trifles, or just a simple cake to serve for guests. In my picture - I had accidentally burnt the top, so I had cut it off and just coated the remainder in cream :) .... also, if you want your cake to be a bit sweeter - a teaspoon of vanilla essence when you're adding the sugar to the egg.

This got zero stars with my husband but that is because I used corn meal. DO NOT TRY THIS unless your craving is for a light, fluffy but gritty giant muffin. It is only fair to give 3 stars imagining that it would be good once I try another flour. Next and final attempt will be brown rice flour.
In a mixing bowl, crack all 4 eggs. With an electric beater, beat for about 10minutes, or until the eggs are thick and creamy.
Gradually add the sugar, beating well after each addition.
Gently fold the corn flour into the egg mixture.
Pour into a cake tin and bake at 180 degrees Celcius for about 35minutes. (or until cooked through, I tell by poking a metal kebab stick into the center and if when I pull it out there's no residue stuck to the stick - it's cooked!).
Let cool. Decorate with icing sugar, maybe a few strawberries. Perhaps cut it in half and sandwich the cake with cream. All fantastic ideas :).