Plain Roasted Artichoke Hearts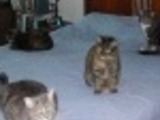 Can't believe it, but there's no other recipe like this on Recipezaar (unless I somehow missed it). These babies are so, so good. I roasted canned artichoke hearts in connection with another recipe I invented, and was so pleased with the way they came out even without the topping, so I'm posting a plain(er) version. If you want the topped version, go to recipe no. 144997. I found that roasting them enhanced the taste and texture - made them more tender on the inside:D One of these "throw it in the oven and ignore while you are fixing other parts of dinner" recipes!
Directions
Preheat oven to 375°F.
Drain artichokes in colander and rinse a bit to remove brine.
Mix gently with garlic and olive oil in a bowl.
Pour artichoke mixture in a metal roasting pan and roast for about one hour, tossing a few times if desired.
Sprinkle with salt and pepper, and add lemon juice and butter (if using).
Most Helpful
Very good but rather plain, as the recipe states. Great side dish for something very flavorful. I would suggest using the frozen artichoke hearts as they don't have that tinny taste from being in a can. I used about double the garlic, Kosher salt and plenty of freshly cracked black pepper. Next time I will grate some Parmesan over. Thanks!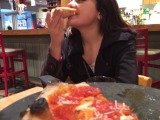 These were lovely! Crunchy outsides with a creamy centre. I'll be trying these again, as they are so unique and easy to make. I made a single can's worth, and didn't use butter or lemon or even salt. I look forward to trying these next time.

Wow, delicious! They smelled wonderful while cooking, because of the garlic! I had never had plain artichokes before and they are now on my list to keep on hand. I did prepare only one can of artichokes because it is only DH and I. Prepared exactly by the recipe and I did use the butter and lemon juice! I put the butter in a little glass bowl and sat it over the burner that gets the heat from the oven. The butter melted while the artichokes were roasting. When they were done, I mixed the lemon juice with the butter and drizzled over the artichokes, with a little salt and pepper. The outside leaves of the artichokes were a little bit tougher than the inside, but nonetheless delicious! Great recipe! Thanks Kumquat!