chia2160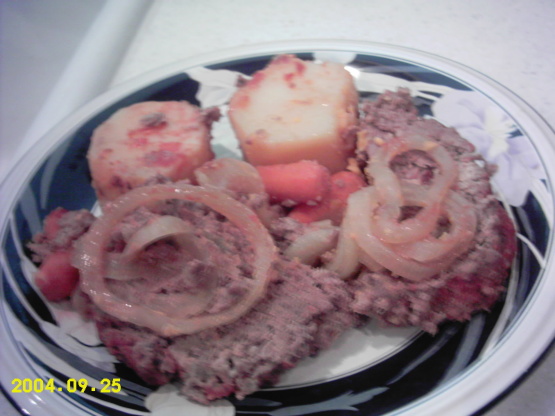 i call this plain old boring meatloaf cause this is my dh's favorite meal= and we eat at 5 star resteraunts alot-- he would eat this every nite if i would make it for him, i took the summer off ,do it now that it's cooler. he is in meatloaf heaven- go figger...

This is necessary to keep in your cook book if you want to have a great recipe for an favourite old standby!
mix the ground meats, breadcrumbs , ketchup, worcesteshire and egg in a large bowl.
form into a loaf shape and put in a large casserole dish.
preheat oven to 375.
slice lge onion and place around meat loaf.
cut potatoes and place around onions.
add carrots, top all with tomato sauce.
cover and bake for 1 1/2 hours, turning potatoes over after 45 minutes.slice and serve.