Plain Lentil Soup (Vegan...and low fat too!)
Pismo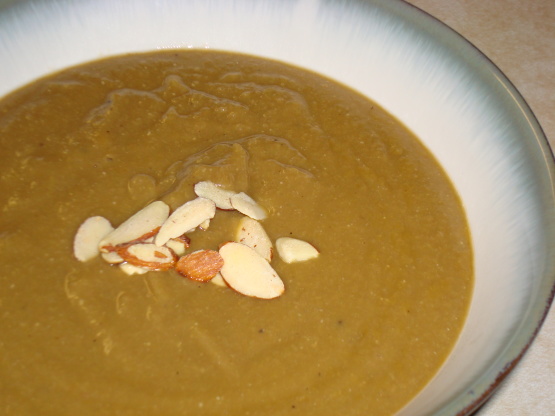 Delicious, hearty, low fat and high protein soup that doesn't use meat or bones for flavor - just fresh veggies and spices.

This is EXCELLENT. It's on my stove right now, keeping until dinner. I've already eaten a bowl because I couldn't wait! The texture of this is nice and smooth--a bit of grain depending on how finely you process the ingredients once they've cooked. Because I can never make a recipe as is, I added about four cloves of garlic and also a few red pepper flakes (probably a teaspoon.) I also used chicken stock to replace about half of the water, although I realize that changes the vegetarian part of this recipe. THANKS for posting!
Wash lentils.
Put all ingredients in large pot.
Bring to boil then reduce heat and simmer 40 minutes til lentils are tender.
Blend in blender in batches until all soup is smooth.
Season with salt and pepper.