jenne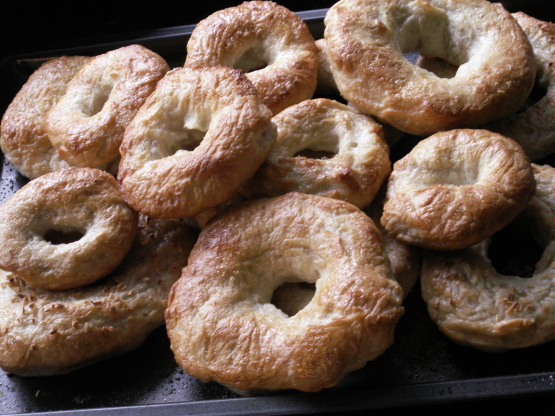 This recipe actually comes from a bread machine recipe book. I changed a couple things so I could make it by hand. I do not own a bread machine. I do however use my bosche mixer. My kids devour these so they don't stick around long. They do freeze well when I double or triple the batch. Timing is approximate.

I really liked these. We go through alot of bagels and finally last week I just go sick of spending so much for them and thought I would try and make them. I tried another recipe and it didn't turn out so well so searched again. My husband says they are a cross between a bagel and a croissants (which he loves). I too put a egg wash over the top. I put them my bread maker on the dough cycle. My oven must run hotter than most because my cooking time was more like 20 minutes or under for both recipes. thanks
Combine all ingredients to make a smooth elastic dough.
Let rise until double. Punch down.
Divide dough into four parts. Divide each part into three pieces.
Make a 1-2 inch hole in center of each piece.
Pull gently all the way around to form circles.
Heat 2 qts water and 2 TBSP sugar to boiling.
Place a few bagels at a time in boiling water.
Simmer 3 minutes, turning once.
Remove with slotted spoon.
Place on greased cookie sheet.
Bake at 375 degrees for 20-25 minutes until golden brown.
Remove from cookie sheet and cool.