Placerville Apple Hill Cake
kmergirl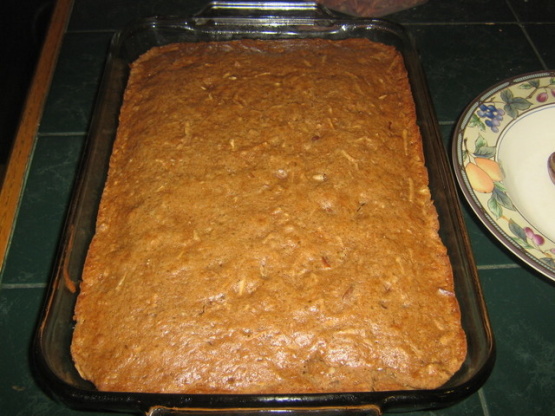 This is a recipe from the growers of Apple Hill in Placerville California. This recipe is one of the most delicious apple desserts and it has an advantage. It is very easy to make and each pan is a guaranteed success. This is great plain or frosted. This is a wonderful fall cake recipe during apple harvest season.

This is a simple recipe, just make sure to measure properly. I have been to Apple Hill in Placerville many times & love this recipe. I agree with cutting back the sugar to 1 cup though. I've played with the recipe and have tried 1/2 c. brown sugar to 1/2 c. white sugar also. I like to add raisins & nuts, but depends on what is on hand. It is such a great recipe and a hit every time. If your cake fell, it may have to do with how old your baking soda is. I repeat there is not an error in this recipe. I have been using this recipe for at least 5 years.
Combine: Sugar, oil, eggs and apples. Sift in flour, salt, cinnamon, nutmeg, baking soda. Mix until combined. Pour into a 9x13 greased pan and bake for 1 hour in a preheated 350 degree oven. Serve hot or cold with vanilla ice cream or whipped cream.