Marlene.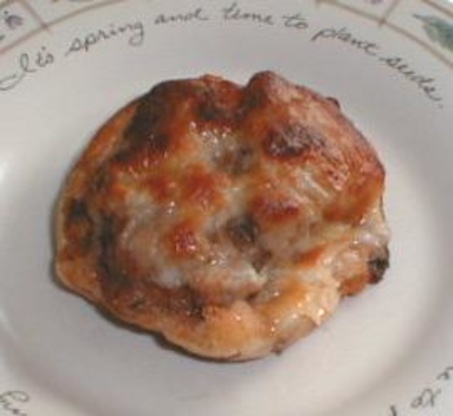 A long, long time ago, in a far away state, in an 8th grade home-ec class we made these. I liked them then and still do! I generally use a lean ground beef, any ground meat would be fine though.

I gave this recipe a try but in a different way that it calls for. I didn't really know if I should come back to give it a review or not but it was so good that I just had to give my review. What happen was instead of putting in the oven, DH and I thought putting on the grill would be good. So what we did was put the hamburgers on the grill with the sauce on top, turned and I put more sauce on other side and grilled til done. Meanwhile put the buns on top layer so they wouldn't burn and when the burgers were done we added the cheese on top and bun underneath so that the cheese would melt over the buns. They were awesome! I will be giving the oven way a try soon. Also would like to mention I did add Italian seasoning to the sauce mixture to spice it a bit more. Thanks for posting a great recipe. It was delicious!
Combine milk,ground chuck, onion,garlic salt,salt, Parmesan cheese and crackermeal.
Mix well.
Split each bun in half, toast lightly.
Divide mixture into 1/8ths, shape one portion on each bun.
Put on cookie sheet.
Make well in each burger.
Mix tomato sauce and oregano and spoon 2 Tbsp into each well.
Put mozzarella on top.
Bake at 425 degrees for 20 minutes.