Rita1652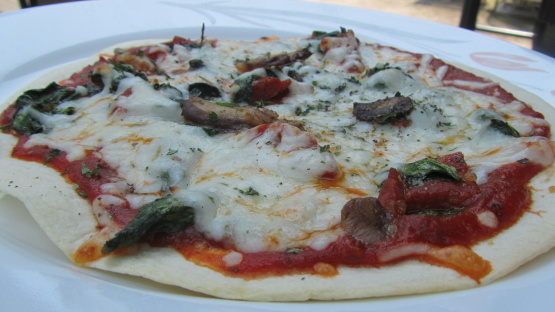 Posting this for safekeeping, since is sounds yummy, and it's a little different than the ones already posted. Adapted from "Cuisine for Two" from Cuisine at Home (I love that magazine!).
We loved these delicious wraps! They are like a much healthier version of calzones. I added some chopped onion along with the mushrooms, to the Italian sausage. Also, I used a basil infused olive oil in the tomato sauce, and added some salt and pepper to taste. Instead of the mozzarella cheese, I used an Italian 5 cheese blend which included: mozzarella, provolone, romano, asiago, and parmesan. I doubled the recipe to make 4 wraps and they were gobbled down in a hurry. Thank you for sharing! **Made for Culinary Quest - Suitcase Gourmets**
Brown sausage in a nonstick skillet over medium-high heat, breaking up the large chunks with a wooden spoon. Add the mushrooms and salt to taste, and continue cooking until sausage is cooked through (about 5 minutes). Transfer the meat mixture to a bowl to keep warm, then wipe out the skillet.
In a bowl, stir together all the tomato sauce ingredients. Heat the wiped skillet on medium-low. Arrange one tortilla in the skillet, then spread 2 or 3 tbs of the tomato sauce over it. Top with 1/2 cup mozzarella cheese, half of the sausage mixture, and half of the pepperoni slices. Arrange 1/4 cup of the baby spinach leaves over the top and sprinkle with half of the Parmesan cheese. Once mozzarella is melted, carefully transfer the tortilla to a cutting board or plate and roll (it's okay if the tortilla cracks, because the cheese will hold it together). Allow the wrap to stand for 1 minute so all the ingredients will heat up. Repeat with the other half of the ingredients. Serve with the remaining tomato sauce for dipping.