gailanng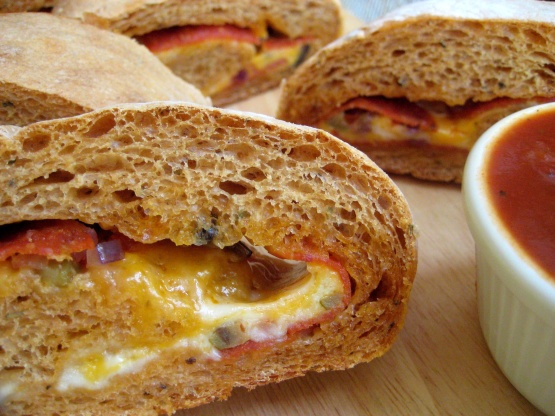 I found this one several years ago in a Taste of Home magazine. We LOVE it! It was submitted to them by John Morcom from Oxford, Michigan. He says "I used to own a bakery, and this bread was one of our customers' favorites. Once they smelled the aroma of pizza and sampled these tempting spiral slices, they just couldn't resist taking some home." Start early and be sure to allow enough time for the dough to rise! I make the dough in my bread machine but there are directions for making it by hand.

This was an amazingly easy and tasty recipe! I made this for a dinner we were invited to, and it was all gone! I thought, you could throw anything into this! I'd like to make it with artichokes next time..maybe broccoli....the possibilities are endless! I used store-bought pizza dough, as I love the thought of doing it all myself, but the reality is, , I just don't have the time, and I am sure it worked just as good! Thank you for sharing this recipe...a "keeper" for sure! xo LA
I make this dough in my bread machine instead of doing it by hand but I'm posting it as it was published. You decide how you want to do it.
In a large bowl, dissolve yeast in warm water. Stir in honey and milk powder until well blended. In a small bowl, combine 1 cup bread flour, whole wheat flour and seasonings. Add to yeast mixture; beat until smooth. Stir in pizza sauce. Stir in enough remaining bread flour to form a soft dough.
Turn onto a floured surface; knead until smooth and elastic; about 6-8 minutes. Place in a greased bowl, turning once to grease top. Cover; let rise in a warm place until doubled, about 1 hour.
Punch dough down. Turn onto a lightly floured surface; roll into a 14-in. x 12-in. rectangle. Sprinkle pepperoni, 1/4 cup cheddar cheese, Parmesan cheese, 2 tablespoons mozzarella cheese, onion, olives and mushrooms to within 1/2 inches of edges. Roll up jelly-roll style, starting with a long side; pinch seam to seal and tuck ends under. Place seam side down on a greased baking sheet. Cover and let rise for 45 minutes.
Sprinkle with remaining cheese. Bake at 350° for 25-30 minutes or until golden brown. Remove from pan to a wire rack. Serve warm. Refrigerate leftovers.