2Bleu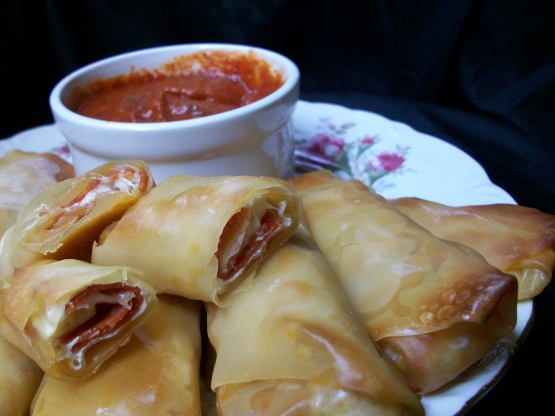 I was looking for something quick that my kids would enjoy for lunch. I came across this recipe at the allrecipes website. You could use hamburger, Canadian bacon, any pizza topping you want. I let me kids come in and they helped create their pizza sticks and I did the cooking part. The recipe says to deep fry, but I try to keep the fat content down a bit in the house so we baked them in oven after spraying with a little olive oil cooking spray to add a bit of crispness. Cooking time includes baking time. Only 5 min. cooking time if you are frying.

This is one of those recipes that I love because you can vary it so many ways and it is quick and easy and tastes good. I only made 8 to make sure we would like this and I made those as written except for using fresh mushrooms I sauteed. I baked them instead of frying. Next batch I plan to use Canadian bacon and perhaps some seasonings. Thank you for a keeper!
1

(14 ounce) package egg roll wraps

24

pieces mozzarella string cheese

25

pepperoni slices

1

(6 ounce) can mushrooms (drained)

2

tablespoons garlic (minced)

2

cups vegetable oil (for frying if you choose not to bake)

1

(14 ounce) jar marinara sauce (I use Prego)
Lay out the egg roll wrappers one at a time.
Place one piece of string cheese in the center near the edge, then arrange some pepperoni, sliced mushrooms and garlic around the cheese (or the topping of your choice).
Roll up the string cheese a little, fold in the sides, then continue to roll up, and seal the edge by moistening with water. Repeat with remaining wrappers, cheese and fillings.
Heat oil in a large heavy skillet, or deep fryer to 365 degrees F (185 degrees C).
Fry enough to fit loosely in the pan, turning once after about 5 minutes. Continue to fry for 3 to 5 more minutes or until golden brown. Drain on paper towels. If baking, place on cookie sheet and bake in preheated 400 degree oven for 20-25 minute or until wrappers are golden brown.
Warm the marinara sauce in a serving bowl in the microwave.
Serve Pizza Sticks on a platter with the bowl of sauce for dipping.