loof751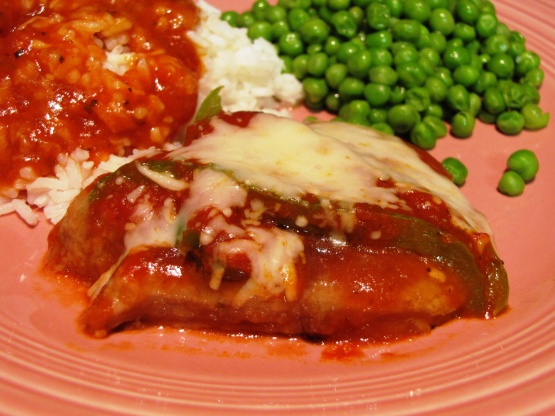 This was a favorite of my children when they were growing up- I started out using a basic Swiss Steak recipe, but due to their tastes, it morphed into "Pizza Steak". Now my Grandchildren love it, too!

This was very easy and quick. I'm sure I used more cheese than the recipe said (I just eyeballed it), I like lots of cheese. We ate ours with mashed potatoes. Thanks for posting.
Combine flour, salt, & pepper. Pound into steaks.
In large skillet, brown onions in oil over medium heat.
Remove & set aside to drain. Add steaks to skillet, & brown well on both sides.
Return onion to skillet, piling them on top of steaks.Pour pizza sauce over all. Cover skillet, reduce heat to medium low, and simmer 10-12 minutes, until steaks are cooked through.
Uncover and top evenly with parmesan and mozzarella. Cover, and cook 3-5 minutes until cheeses are melted.