Pam-I-Am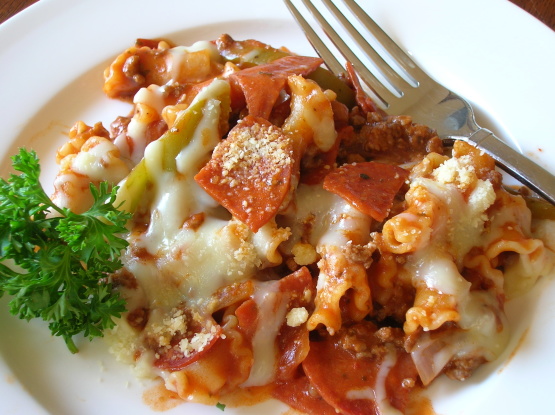 A pizza pasta casserole in a skillet. Kind of like a homemade Hamburger Helper. Quick, easy and a kid pleaser! I use turkey pepperoni to cut way down on the grease that regular pepperoni can release.

Made this for dinner tonight and everyone enjoyed it. I substituted 1lb pork sausage for the ground beef to give it more of a pizza-y taste (definitely drain really well to avoid being greasy!!!). Also used quartered regular pepperoni and increased the amount to 1 cup. I used bow tie pasta because that's what I had on hand, but ended up increasing the water a little too much to make sure it cooked until tender...so next time I'll definitely try using a different shape (maybe rotini?) or try to find the mini lasagna noodles. Topped with Kraft's 4 Cheese Pizza Blend of shredded cheese and it really did taste even more like pizza than we expected it too. Not only a kid pleaser (the 3 year old cleaned her plate) but a whole family pleaser in our house. Thanks so much for posting...I'll be adding this to the rotation!
In a large skillet, brown ground beef, onion and bell pepper, drain.
Stir in pizza sauce and soup, blend well.
Stir in water and pepperoni. Bring to a boil; stir in uncooked noodles.
Cover and cook over medium heat for 10 to 15 minutes or until pasta is tender, stirring frequently.
Remove from heat; sprinkle with cheese. Cover, let stand for 5 minutes.
Makes 5 (1 cup) servings.