ErikaNY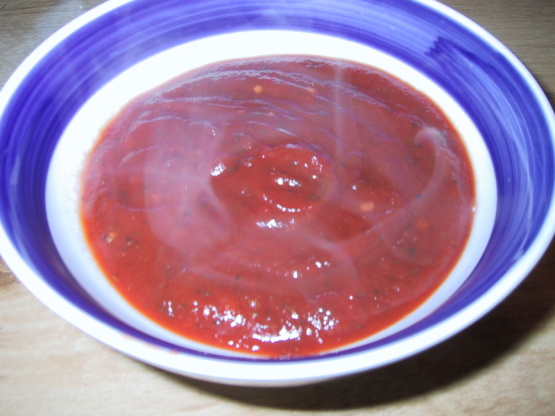 I really love this recipe. I started out with a basic pizza sauce recipe, and took away a little garlic and then added other seasoning to it. I came up with this after trial and error. My husband and everyone who tries it loves this pizza sauce.

I was searching for a pizza sauce... not to use for pizza, but to use for dipping miozzaerlla 'chunks' in! Husband and I had frozen pizza this evening... and homemade fried mozzaerella chunks on the side (using our fondue pot) and used this as our dipping sauce. Very good! I did add 1/2 teaspoon sugar to it as it was a little on the acidic side from the tomato sauce.. will use again! Thanks!
1

(15 ounce) can tomato sauce

1

teaspoon oregano
1 1⁄2 teaspoons italian seasoning

2 -3

cloves garlic, chopped fine
salt & pepper
Mix all the above in medium-size pot.
Stir well.
Let simmer for 15-20 minutes.
Let cool before putting on pizza dough.