lets.eat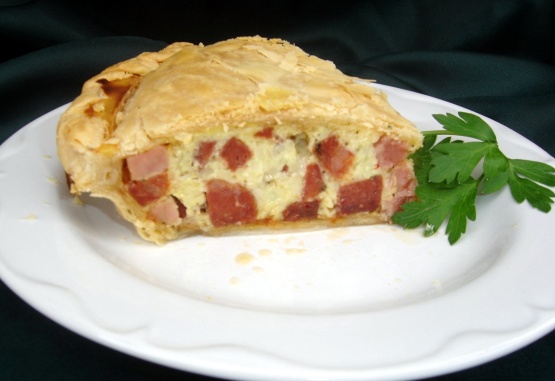 This most typical savory pie is served for Carnevale (the day before Ash Wednesday) and then again for Easter. Though many recipes for pizza rustica specify that the dried sausage, mozzarella and other filling ingredients be layered, in the Neapolitan version, they are diced and added to the ricotta filling, making the resulting pie easier to cut into wedges. The listed ingredients are sufficient to fill an 8x8x3 inch caserole. It is interesting to note that some of the folks warmed this dish. We always ate it at room temperature.

Perfect! I made it for Easter and sent some to work with my husband. The men went crazy for it and I am making another one now for them. Big Hit!! Thanks for sharing!
Directions:.
Dice meats and the mozzarella cheese. Beat the eggs. Combine all ingredients and pour into pie shell. Place second pie shell on top and seal around the edges.
Bake at 325 degrees for 1 hour and 15 minutes.
Occasionally pierce the top with a fork.
For a Low-carb version omit the pie shells.