gertc96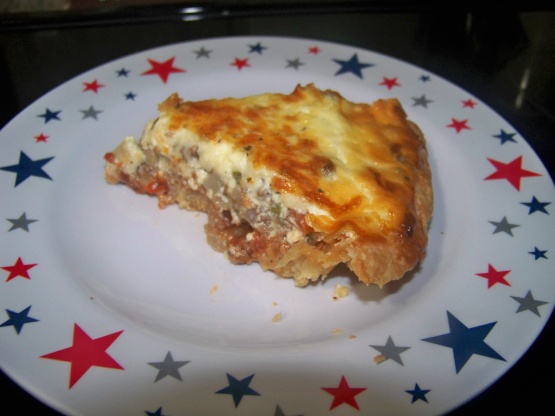 Taken from Canadian Catholic Ladies Treasured Family Recipes.

We thought this was good. It's got lots of possibilities. I used some left over pizza sauce I had, but think that there could be more thank 2 tbs added. I also wasn't able to use all of my egg mixture. My pie shell was overflowing, but it still turned out well. I diced up some red pepper I had and put it in as well. Thanks for sharing. Made for PRMR-2010.
Spread tomato sauce over pie shell.
Saute ground beef, onions, mushrooms and green pepper until beef is mostly browned.
Spread into pie crust.
Top with Mozzarella and oregano.
Combine eggs, milk and cream, pour over pie.
Bake at 375F for 30 minutes or until set.